In order to begin using Bing Ads and the Bing Merchant Centre, you first need to create a product catalogue in the Bing Merchant Centre and import all of your products. Bing allows you to load an XML feed file containing your product catalogue, created conveniently in Shopping Feeder. Once your data feed has been loaded, your product pricing information is automatically updated by Shopping Feeder – so that making changes to pricing and product information is no longer a tremendous burden. Bing Ads is essential for merchants looking to drive higher quality traffic and increase their ROI with incomparable ease.
Follow this comprehensive guide in order to swiftly get your products into the Bing Merchant Centre.
Before you can get started with this guide you need to:
Create a ShoppingFeeder Account
Subscribe to a Bing Product Ads XML feed
Create a Bing Ads Account
Create a Catalog
Once you have created your store in the Bing Merchant Centre, the next step is to create a catalogue for all of your products. You will land on a page that will present you with a summary of the store you have just created.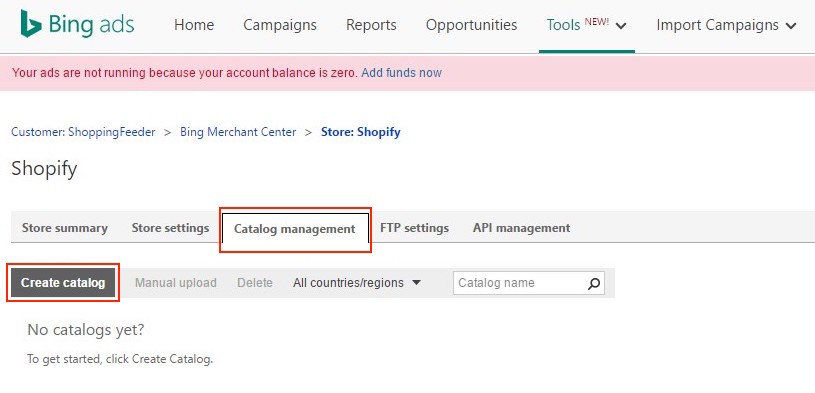 Select the Catalogue Management tab followed by the Create Catalogue button.
Add XML Feed to Catalog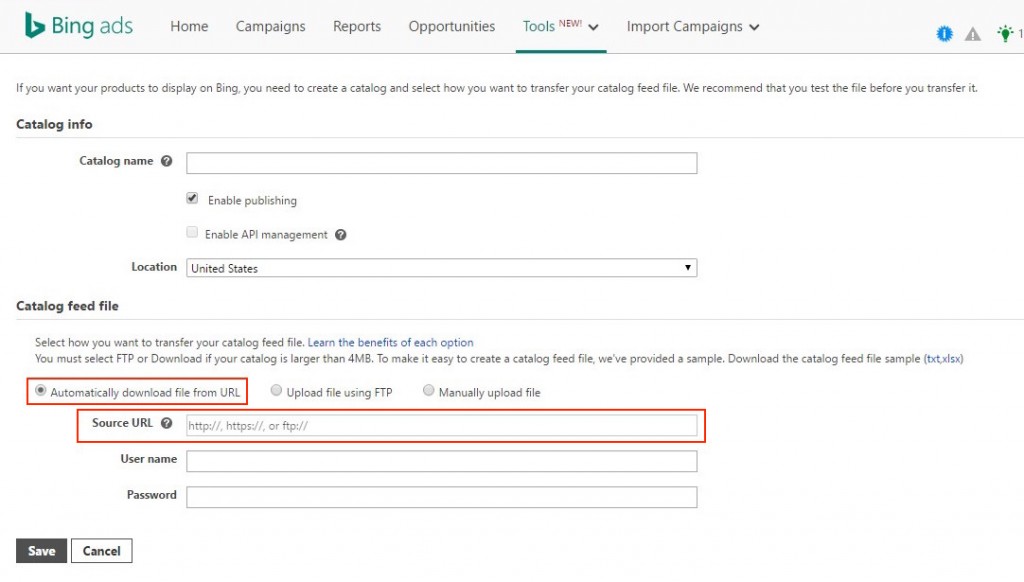 You will now be presented with a page that allows you to input the details of your catalogue
Enter the details of your catalogue
When adding your catalogue information, you will see a drop-down list requesting location – this refers to your location target. This is the market to which your ads will be specifically targeted. Select the market which is appropriate for you.
Select Automatically download file from URL
In the Source URL section, paste in the URL of your Bing Product Ads XML Feed.
The Username and Password fields should be left blank.
DO NOT SELECT the Enable API management selection box as this will inhibit you from having your product catalogue automatically downloaded in Bing Ads.
Once you select Save, your new product catalogue will be created and you will have completed the process.