Integrating Google Dynamic Remarketing with your Shopify Store is a great way to bring users who visited your site, showed interest in a product but never completed checkout.
Google Dynamic Remarketing differs from your standard remarketing in your Shopify store, since it enables you to remarket the exact product to a user that they view or added to their cart, but never completed checkout. These Dynamic Product Ad units  for your Shopify e-commerce store will be shown to users as the browse the internet and are very powerful for driving users back to your store and getting them to convert.
Google Dynamic Product Ads work by firing off events to Google using the Google Adwords Dynamic remarketing tag. This Remarketing tag contains custom parameters that contain the Shopify product and variant ID as well as the price of the product. This data is matched against the data feed that you would have uploaded to Google Merchant in order to create the Dynamic Ads that are displayed to users once they leave your Shopify Store.
In order to get started with Google Dynamic Remarketing with Shopify you first need to add the Google Remarketing tag to your Shopify store.
This tutorial will take you through the steps required to add the Google Remarketing tag to your Shopify store.
Create a Google Dynamic Remarketing Tag
Log into your Google Adwords account to begin setting up your Google Dynamic Remarketing Tag. From the left side navigation select Shared Library and then under "Audiences" click View
If you haven't used remarketing before you'll need to set your Business Type as Retail and tick Use dynamic ads. You'll also need to link your Google Merchant Center account to your Adwords account.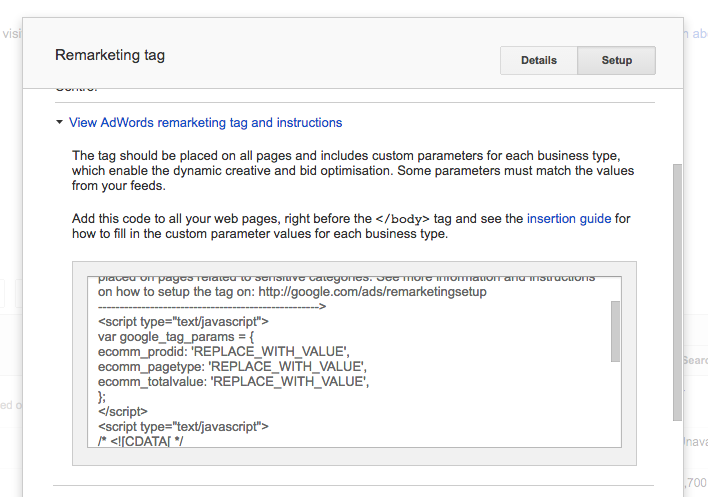 Your remarketing tag will appear and your can use it to fill in the XXXXXX in the below with the required data.
Edit Remarketing Tag
  
  
  

<!--

 Google Code 

for

 Remarketing Tag 

for

 ShoppingFeeder

-->




<!--

--

--

--

--

--

--

--

--

--

--

--

--

--

--

--

--

--

--

--

--

--

--

--

--


Remarketing tags may not be associated 

with

 personally identifiable information or placed on pages related to sensitive categories. See more information and instructions on how to setup the tag on: http:

//google.com/ads/remarketingsetup




--

--

--

--

--

--

--

--

--

--

--

--

--

--

--

--

--

--

--

--

--

--

--

--

--

-

>




<

script type

=

"text/javascript"

>




var

 google_tag_params 

=

 {

ecomm_prodid: 

'{{ product.id }}_{{ product.variants.first.id }}'

,
ecomm_pagetype: 

'{{ template }}'

,
ecomm_totalvalue: {{ product.price_min | money_without_currency | remove: 

','

 }}
};


<

/script

>




<

script type

=

"text/javascript"

>




/* <![CDATA[ */




var

 google_conversion_id 

=

 XXXXXXXX;


var

 google_custom_params 

=

 

window

.google_tag_params;


var

 google_remarketing_only 

=

 

true

;


/* ]]> */




<

/script

>




<

script type

=

"text/javascript"

 src

=

"//www.googleadservices.com/pagead/conversion.js"

>




<

/script

>




<

noscript

>




<

div style

=

"display:inline;"

>




<

img height

=

"1"

 width

=

"1"

 style

=

"border-style:none;"

 alt

=

""

 src

=

"//googleads.g.doubleclick.net/pagead/viewthroughconversion/XXXXXXXX/?value=1&amp;guid=ON&amp;script=0"

/

>




<

/div

>




<

/noscript

>




Edit Shopify HTML/CSS
Login in to your Shopify Store Admin and navigate to the Shopify Theme Editor. You can find the Theme Editor in your Shopify Store by selecting Online Store under Sales Channels. From the menu that appears select Themes. Once the Themes page has opened click the "…" button and select Edit HTML/CSS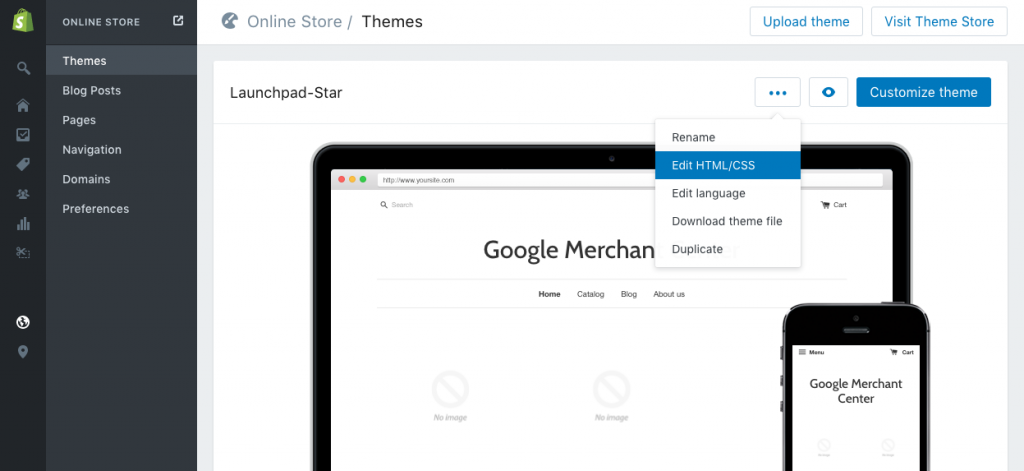 Edit theme.liquid file
From inside the layout folder select theme.liquid file. Pasting the code from the step above before the tag, making sure to insert your Google Conversion ID in place of the XXXXXXXX