In order to begin using Bing Product Ads, you first need to create a product catalogue in the Microsoft Merchant Centre and import all of your products. Bing allows you to load an XML feed file containing your product catalogue, created conveniently in Shopping Feeder. You can also import your products from the Google Merchant Center, but in this guide we're focusing on how to create a catalog using your feed from ShoppingFeeder.
Follow this guide to get your products into the Microsoft Merchant Center.
Before you can get started with this guide you need to:
Subscribe to a Bing channel in ShoppingFeeder (Do this in Feed Management from the dashboard)
Create a store

Now click on Create a store and begin entering your store info.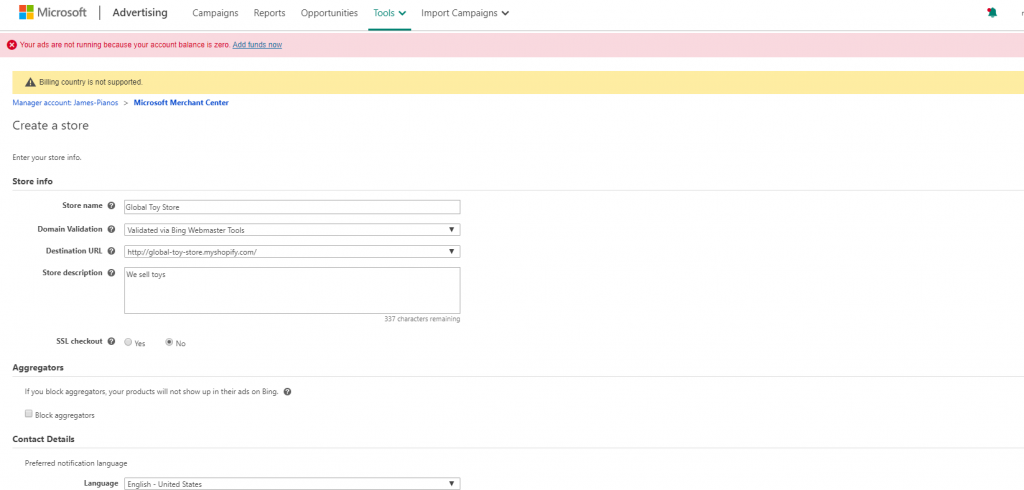 Once your store has been created, you can click on it to begin managing catalogs. Note that you will have to verify your store using Bing Webmasters Tool before store creation.

Next, select Catalog management > Create catalog.

Add XML Feed to Catalog
You can now input the details of your catalogue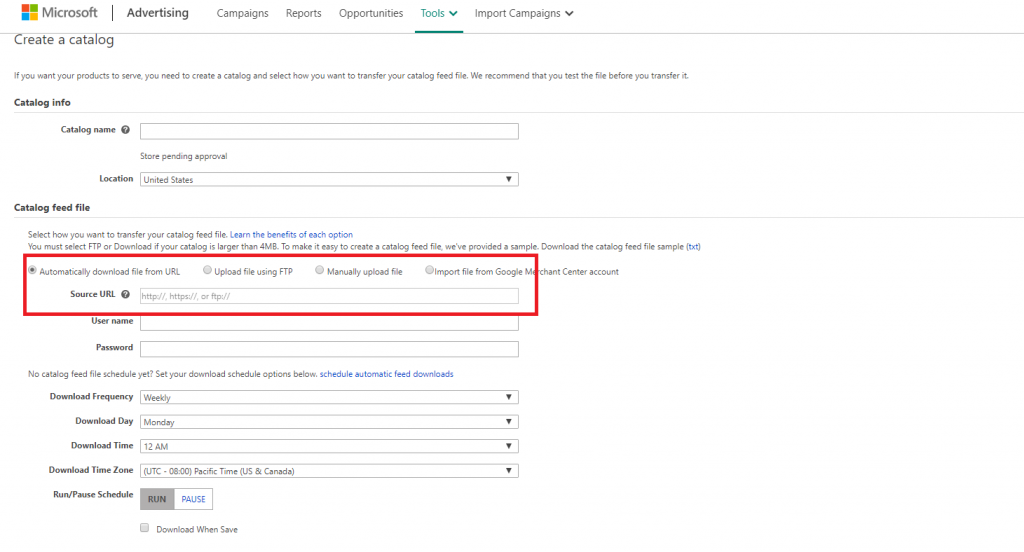 Enter the details of your catalogue
When adding your catalogue information, you will see a drop-down list requesting location – this refers to your location target. This is the market to which your ads will be specifically targeted. Select the market which is appropriate for you.
Select Automatically download file from URL
The Username and Password fields should be left blank
In the Source URL section, paste in the URL of your Bing Product Ads XML Feed. You can find this URL in your ShoppingFeeder dashboard. Simply go to Feed management > Channel management and click on the Link icon besides the Bing Product Ads feed.

There will be a pop-up that appears with the XML feed which you can copy-this is what you paste in the Source URL box back in the merchant center.

DO NOT SELECT the Enable API management selection box as this will inhibit you from having your product catalogue automatically downloaded in Bing Ads.
Once you hit Save, you've successfully imported your products!