Facebook Dynamic Product Ads enable you to promote your products, on Facebook, to customers who have been browsing you e-commerce site. Facebook Dynamic Product Ads allow you to show ads to customers for products they have engaged with on your site either by viewing them or adding the to cart but not completing checkout. Dynamic Ads are highly relevant and can be targeted across devices
Before you are able to create Facebook Dynamic Ads for your e-commerce store you will need to:
Sign into Power Editor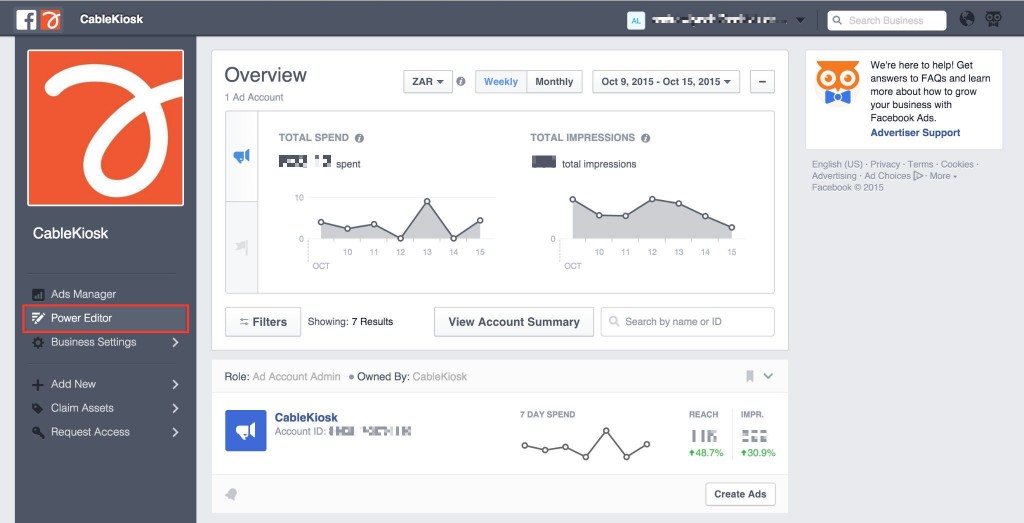 Power Editor can be accessed through the Facebook Business Manager. Power Editor lets you manage manage all your campaigns and ads across Facebook.
Note: Power Editor is only supported in the Google Chrome browser.
Create New Campaign

Create a new campaign by clicking the create campaign button in Facebook Power Editor
Enter your campaign details and objectives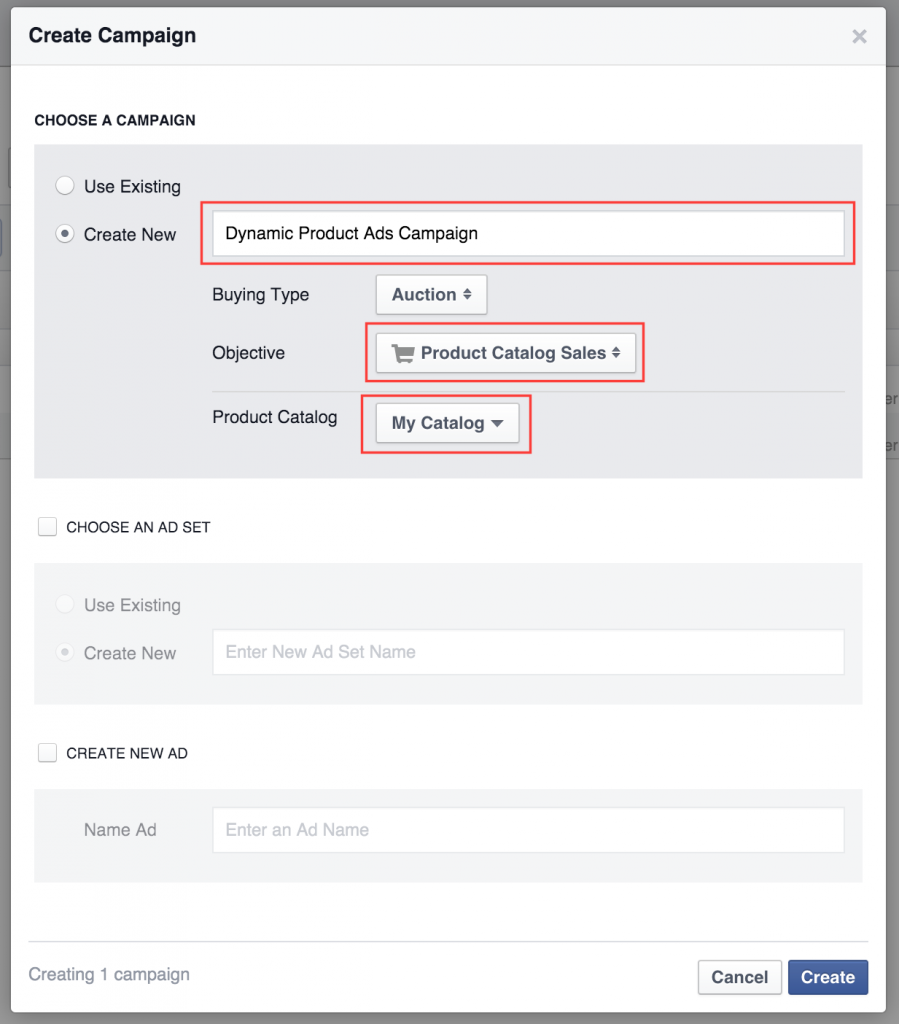 Give your campaign a name. Set the Objective to "Product Catalog Sales" and ensure that Product Catalog is set to the product catalog feed that you wish to re-market to users. Leave blank "Choose an Ad Set" and "Create an Ad"  and click Create.
Create New Ad Set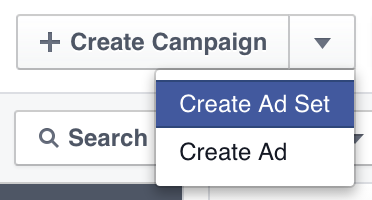 In Power Editor, Create an Ad Set by clicking the "down arrow" icon followed by Create Ad Set.
Enter New Ad Set and Ad Details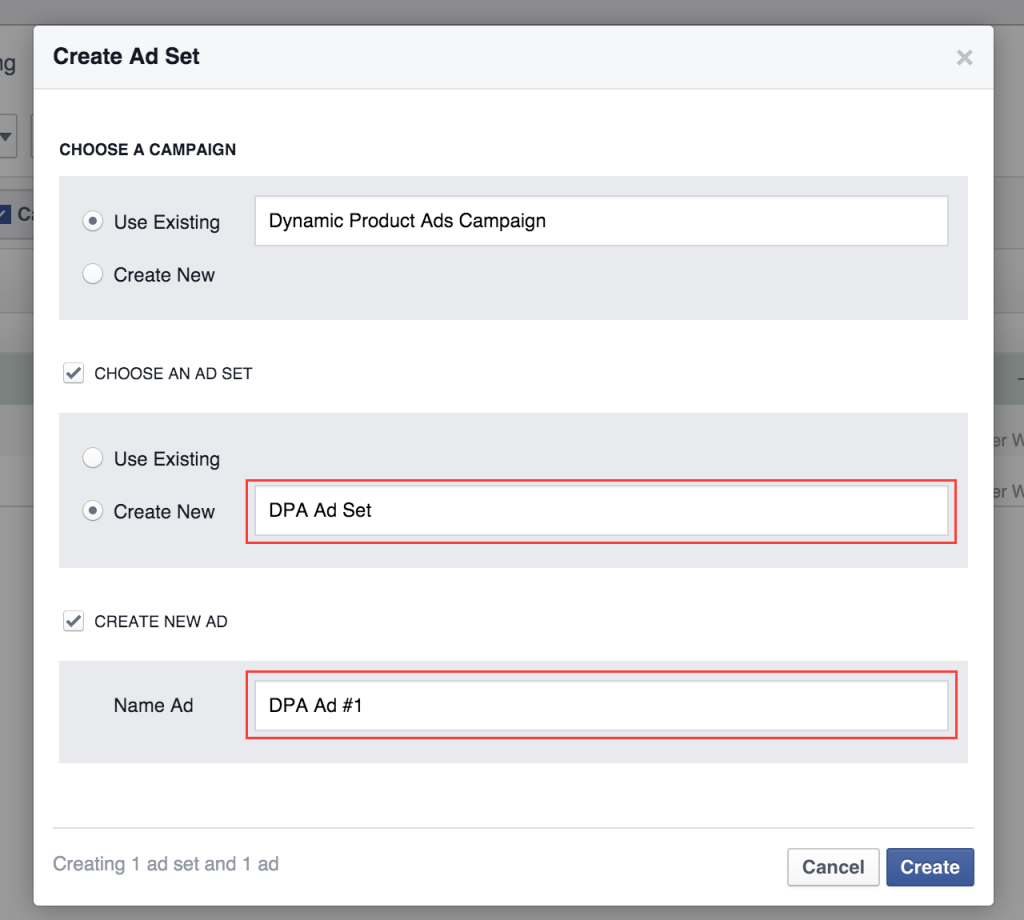 Make sure that you select your existing Product Ads Campaign. Give your Ad Set and New Ad a name. Click Create.
Create a Product Set
The Ad Set Edit box should appear after the creation of your Ad Set. If not: at the Product Set level, select the check box next to the Ad Set and click Edit.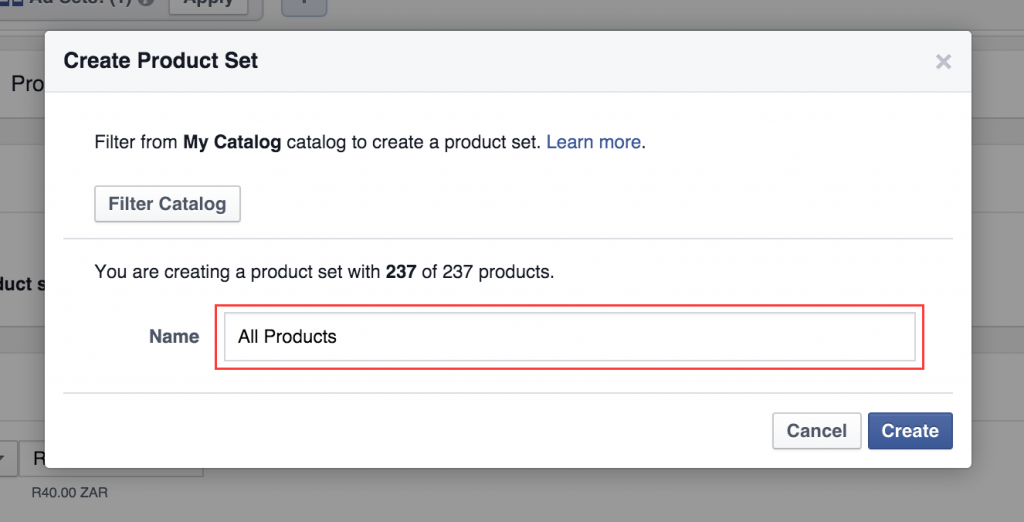 A product set lets you define what product will be shown in this Ad group. You can group together similar products e.g. "dresses" to ensure that a user who views a dress on your e-commerce site will be be show product that are similar to the one that they viewed.
For your first ad set it is recommended that you create a product set that is not filtered to ensure that your entire product catalog is covered.
Optional: Filtering a product set
To filter a product catalog click the Filter Catalog button and use the drop down menus to refine your selection. You can filter products in your catalog by Availability, Brand, Category and Product Type.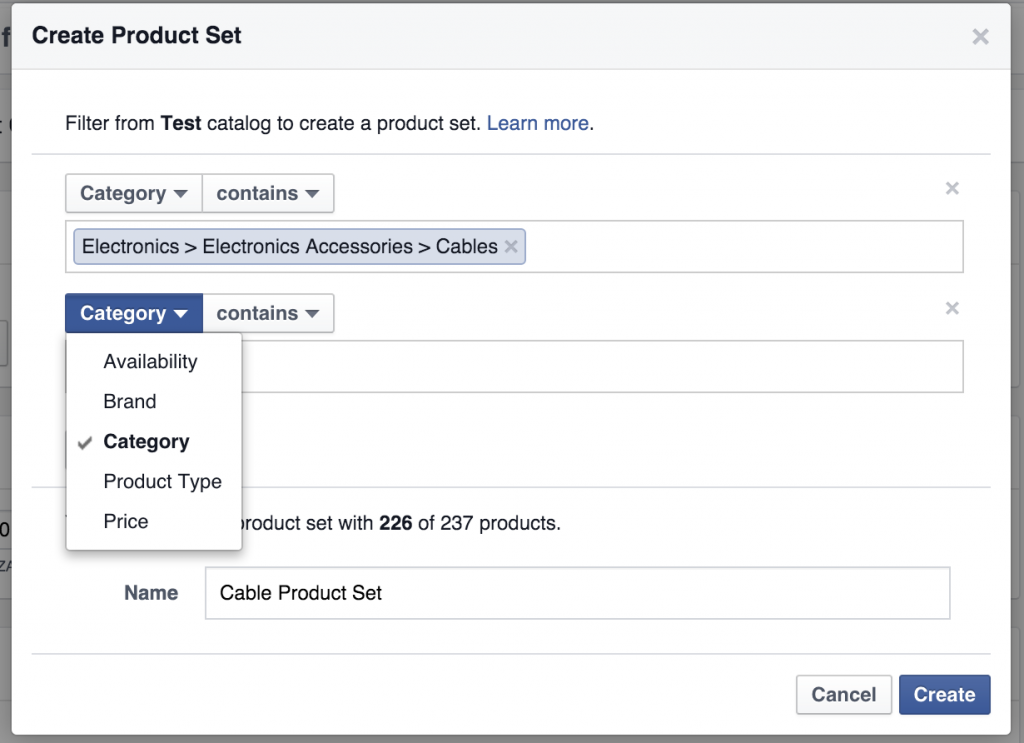 Define Product Set

Assign your newly created Product Set to the Ad Set.
Creating the Ad template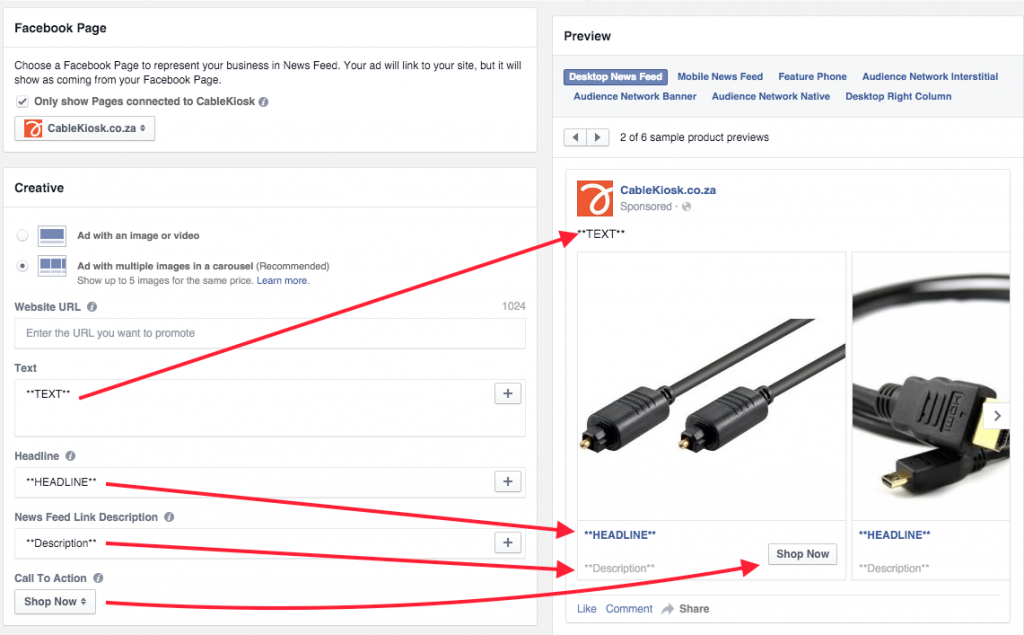 Set the Facebook Page associated with your Dynamic Products Ad. Choose your Ad Type – the multiple Ad units is recommended since it shows more of your products to a user in a single glance. Set the URL to your e-commerce store in the Website URL input box. For the Text input box write a description that compels a user to engage with your Ad, something like "We supply a huge range of cables at the best prices" works really well. Try to be honest, yet convincing.
The Product images are automatically pulled from your product feed. When setting the field, you can use dynamic information from your product catalog. To do this, click the Plus Button and select the field your wish to insert. You can combine static text with dynamic text to create highly compelling Product Ads.
Set an Audience for your Ads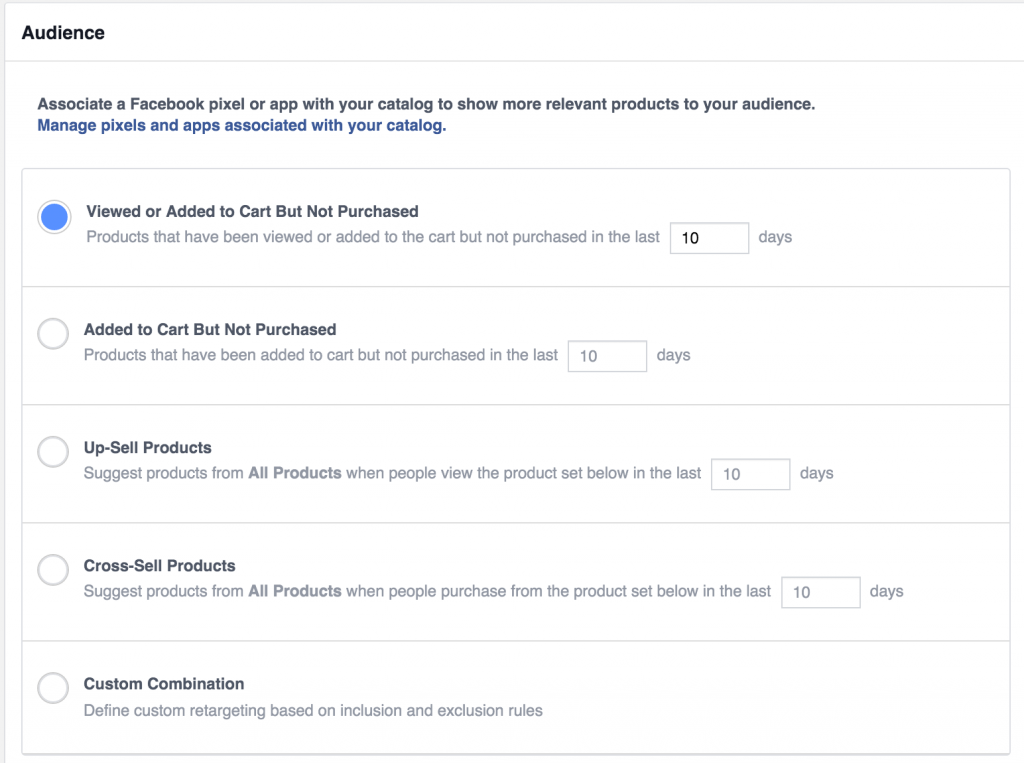 Set the Audience and time period that you wish to target for your Ads. To optimise your Facebook ad spend we recommend setting your audience to View or Added to Cart But Not Purchased and the number of days to 10. This setting will only show Ads to users on Facebook who have engaged with your products through viewing them or adding to cart, but not completing checkout, in the last 10 days.
Monitor Performance of Ads
Once your Dynamic Ads are running you can learn how each individual product is performing. Return to the Facebook Business Manager and select Manage Ads. Select your campaign and use the Breakdown menu to drill into the results of your campaign. Selecting Product ID will show the number of impressions and conversion per product.